NCR Pads – Books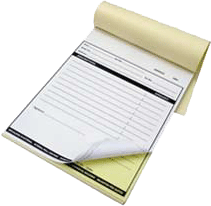 Humble but essential, NCR pads and books play a crucial role in the day to day operation of many Auckland businesses. Designing and printing NCR pads and Books is a specialist skill, and we have the technology and experience to execute it. If you need help designing your NCR pads, our designers can also be of assistance.
Computer Forms 
Computer forms are used by companies using sprocket fed/tractor fed printers.
We have experienced designers who know the intricacies of designing these forms to fit the data fields.

Letterheads
If you're in business, you need a letterhead that makes a great first impression and has a lasting effect on your clients. Nearly all of your proposals, sales letters and other correspondence are presented on letterhead, making your letterhead crucial to your company's image.
Choose smooth or textured stock, with or without a watermark. Talk to us about using Letterpress printing to foil or emboss your letterheads to further impress your clients.
Our letterhead paper is compatible with laser and inkjet printers.
Talk to us about matching your Letterheads & With Compliments slips to your envelope stock

Envelopes
Printed Envelopes are an economical way to promote your business and increase brand awareness. As well as off the shelf standard sizes including post paid envelopes, we supply custom sizes on custom stock of your choice, give us call on 09 832 3037 for more details.
Stationery
WPS Design & Print supply all printed stationery products including but not limited to
Invoice Books
Receipt Books
Rental agreements
With compliments
Business cards
Price Lists
Gorgeous Stationery with Digital and Letterpress Printing For Auckland
Wow your clients with personalised stationery and letterheads from the team at WPS Design & Print. We are a local Auckland business offering personalised NCR pads, envelopes, computer forms and business cards and are proficient in digital, offset and letterpress printing.